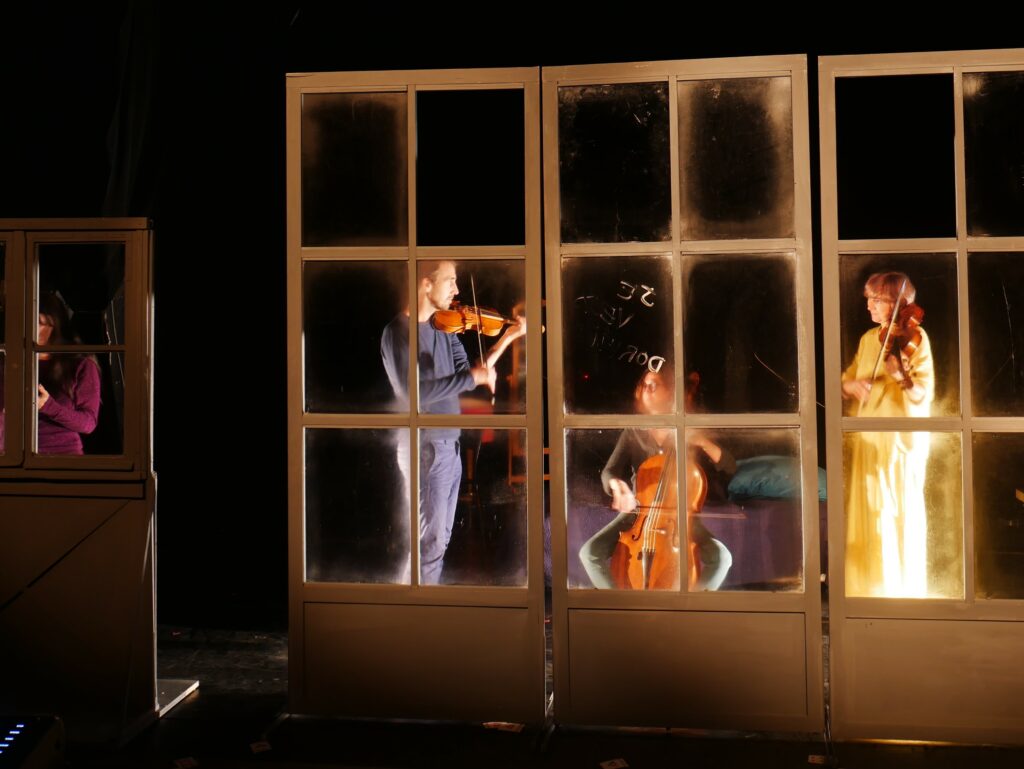 Collectif Manyways
Manyways is a collective formed by three musicians in pursuit of performances that go beyond the classical concert, mixing music with other art forms and finding inspiration in forging new creative paths.
Multi-disciplinary and flexible in form, Manyways has at its centre three string players; Diane Chmela, Charles-Étienne Marchand and Emily Robinson. These core members each have successful careers in historical performance practice and share a spirit of openness and curiosity regarding other disciplines.
Fenster, created in association with actress, author and director Sandy Ouvrier, is Collectif Manyways's first collaboration. The Théâtre de l'Arsenal in Val de Reuil and its co-director, Jean-Yves Lazennec offered invaluable support at the beginning of the creative process in the form of two residencies in July and September 2020. La Factorie – Maison de la Poésie and its director, Patrick Veschueren made these residencies possible in providing the location.
Collectif Manyways have developed an education and outreach programme based on the project Fenster for students in the Nord department, in partnership with Le Concert d'Astrée. A semi-staged concert version of the work has already been given at the last edition of the Festival Les Musicales du Fival in the Ardéche region.
In parallel with the creation of Fenster, Manyways have given performances of Johann Sebastian Bach's Goldberg Variations in an arrangement for string trio using period instruments, such as in the concert series Méridiennes in Rouen.